Get Out Of Pool Dilemma With An Above-Ground Swimming Pool
It is quite normal that a person who is looking for a swimming pool will go with in-ground swimming pools because that's what he/she have seen in the movies, TV shows and in reality most of the time. But, having an in-ground pool is going to be an expensive venture because the cost of constructing this pool is high, plus the cost of maintenance is also not that cheap. But, there is nothing to worry about because there are above-ground swimming pools available on the market, which you can check out.
Having an above-ground pool at home will allow you to enjoy your weekends in the water.In-ground pools are good, but they require a certain area where they can accommodate properly and also not affect other surrounding things. All people don't have an adequate amount of space to accommodate in-ground swimming pools, which is why people opt for above-ground swimming pools.They are a lot easier to install, plus they are cheaper than the in-ground swimming pools.
The option to customize
One of the highlighting features of an above-ground swimming pool is the ability to get customized according to the choice of the user.You can choose any style, design, shape and proportions, and you will get that particular above-ground swimming pool quite easily.It doesn't matter if you are looking for a swimming pool where your kids can enjoy during the summer months or an Olympic style pool, you can easily find either one of these. How much length, breadth and depth you want to have can be customized, thus making it easier for you to take a decision.
Above-ground swimming pools now come with more durable materials
There are many people who don't like above-ground swimming pools because of the bad experiences that they have encountered in the past with these pools.They must have gotten problems with the size, shape and design of the pool, which has forced them to avoid these pools. But, these days, above-ground swimming pools come with polypropylene woven laminated construction amalgamated with resin or steel frame to add durability to the pool.These pools have become quite popular on the market, and people are especially buying the pools with resin frame because it will not corrode or rust, even after years and years of use.
Easy to construct and remove
There is no doubt on the durability and ruggedness of steel. In the above-ground swimming pools, it is galvanized coated in order to give a much better protection to the pool against rust and other harmful elements.The best feature in many people's opinions regarding above-ground swimming pool is that it is extremely easy to construct and take down.When it comes to in-ground swimming pools, it will cost you around $4000-$5000 to get rid of the pool, which is 15 times the cost of removal of an above-ground swimming pool.
Safe for children
There are a countless number of advantages of having an above-ground swimming pool.If there are small children at home, even then you can feel safe because there are less chances of them getting injured. Small children can't climb up the pool and get into the water on their own. The worries that most people have after constructing an in-ground swimming pool will not be there if you have an above-ground swimming pool.This pool is safe for your family and will also play the role of the perfect entertainer. But, if you have kids at home, then you must be a little conscious when they are playing around the swimming pool area.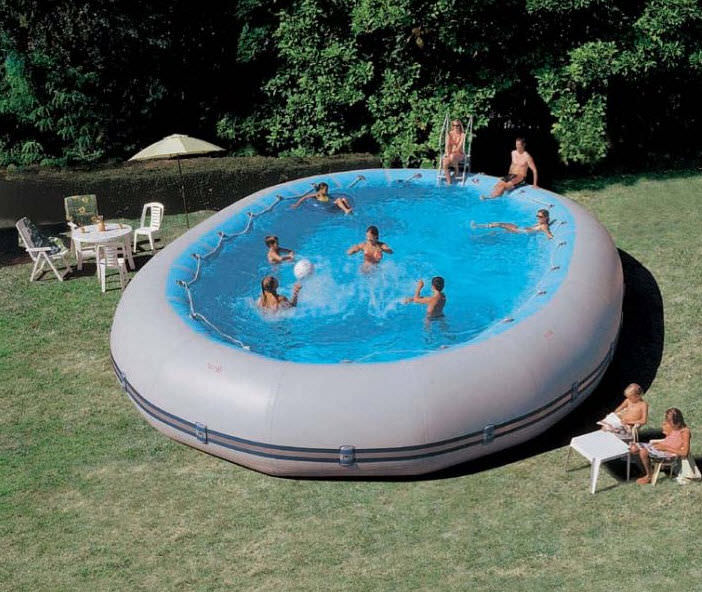 A value for money product
Above-ground swimming pools have provided people with a great option to have a pool at home without spending thousands of dollars.The sale of above-ground pools is going good, and will further rise in the future.So, if you are planning to buy an above-ground swimming pool, then you must take a look at different companies that manufacture these pools.Determine your budget and then, start with the process of buying the best above ground pool. You can also check out above ground pool reviews given by expert Ryan Rogers at: PoolAdvisors.net. This will make things clearer for you as to which brand you should go with.